This exhibition was held August 2011, in the Birr Theatre and Arts Centre. The essay is written by the Artist Patricia Hurl and explains the work and my further research in story tellers and their stories
Studio, Mount Butler Co Offaly:  The studio is quiet, the silence only broken by the occasional sound of heifers directly below her window. A large wooden table dominates the space and on it sit a wooden doll – house surrounded by an assortment of miniature doll – house parts; rolls of wallpaper, floorboards, window frames, staircase rails and even an aga cooker, a veritable child's delight. That's where the comparison ends. This no ordinary doll – house. I notice that there is no back wall, instead a translucent sheet hangs, giving a strange ominous glow to the interior. There is a tension between what I am accustomed to experience when viewing a doll – house and what I am now witnessing. Therry switches on a projector and a scenario unfolds. On the back wall, a flock of crows swoop and flutter, intermittently screeching and cawing angrily, their presence evoking their reputation as harbingers.
A video is projected on the surface of a curious wooden stand, revealing an elderly man, comfortably seated in an armchair. He is a storyteller and he begins his tale, I am captivated at once. This is an experienced teller of tales, his voice soft and gentle, belaying the sometimes grim storyline. A third video reveals another man, also a storyteller, this time he appears as an image in the interior of an old trunk. I am not sure what is happening, but I imagine this must be the protagonist who holds the three set pieces together. Therry explained to me that she has recently had a few inexplicable and unsettling encounters with nature; hearing one night, what seemed to be the sound of a baby cry in the field behind her house, experiencing crows swooping angrily over her head as she jogged nearby lanes, and, most upsetting, was the uprooting of a favourite old ash tree during a summer storm. These manifestations happened during a traumatic period when a close relative was seriously ill. In trying to find meaning in these events she was lucky to be introduced to Paddy Lowry and Paddy Heaney two well-known local storytellers, who spent a great many hours filling her head with their wisdom and knowledge of local history, folklore and legends.
The Theatre and Arts Centre is an appropriate venue for this theatrical interdisciplinary work with its blend of illusion and veracity.
Patricia Hurl, 5th July 2011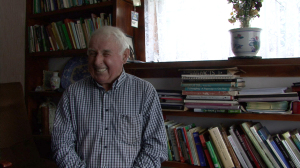 Paddy Healy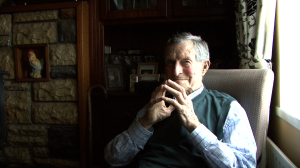 Paddy Lowrey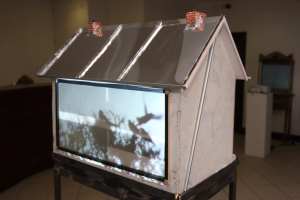 The Crows in the Doll House