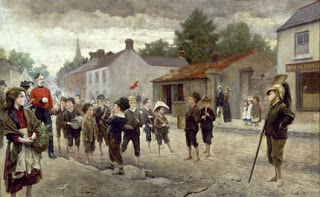 Richard Moynan (1891) National Gallery Ireland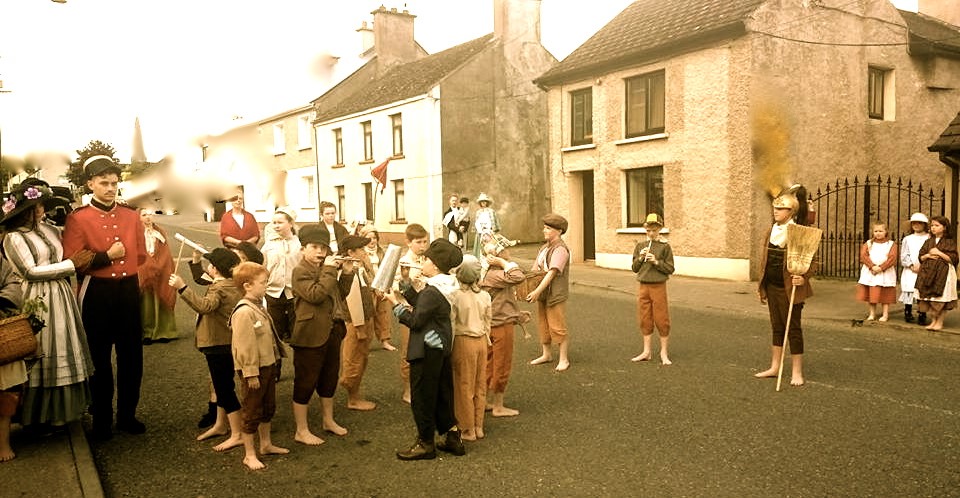 The film, 'Military Manoeuvres, a Re-enactment' is a Participatory Art Project in collaboration with the Community in Banagher. the idea was  to re-enact this much loved painting in the form of a Pageant on Culture Night . This was  filmed by artist and photographer, Therry Rudin and costumes by designer, Mary McGuinness.
The idea was to bring one of my favourite paintings 'Military Manoeuvres', to life. This painting is by the Artist Richard Moynan (1891), and is part of the collection of the National Gallery of Ireland, a place which was a hide-out of mine, as a child.
The painting is a perennial favourite of the many children who see it, and depicts a slice of life in a Midland garrison town in the years before Independence.
The town I picked was Banagher. a beautiful old garrison town, on the Shannon, which marks the spot where Cromwell set up camp and built the great bridge across the Shannon for troops, this flies in the face of much research on the location, which was never credited by Moynan himself. His painting, I believe, stems from Moynan's imagination and is a composite of many towns which appear in his working drawings and sketches. The painting was done in his studio and this would allow for artistic license, which is my own prerogative. I choose to believe that Banagher Town, with its terrible history, which still resonates in its looming Barracks walls, fits the bill perfectly.
The film is a slow motion picture, which repeats on a loop for 1hr.15 mins.  An accompanying slide projection shows the documentation of the process.
It has been the most rewarding Community Project I have ever been involved with. The amount of support and engagement which built up slowly and surely as we progressed was wonderful. Parents, grandparents, relatives, neighbours and schools, and, even a local farmer, who came along with his horse, Hamish, and Carriage.
This event was a Community Project commissioned by Co. Offaly Co. Council Office, as part of the 1916 commemorative events.