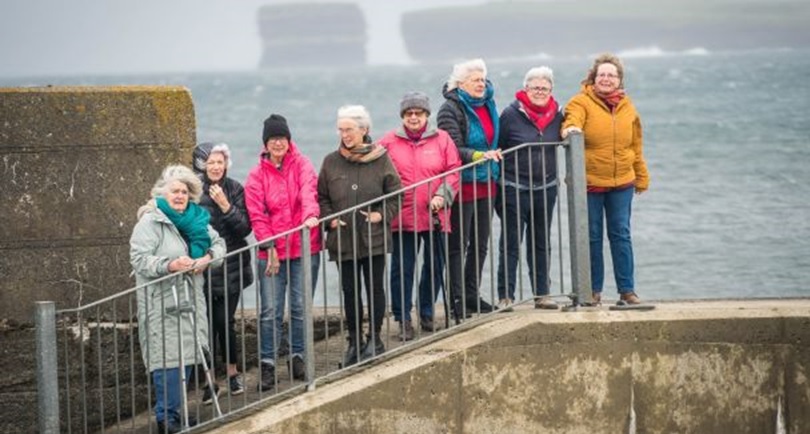 Left to right: Helen Comerford, Patricia Hurl, Carole Nelson, Catherine Marshall, Barbara Freeman, Garda Teljeur, Therry Rudin, and Maria Levinge.
Photograph: Keith Heneghan. Image Ballinglen Arts Foundation, September 2020
About the Project
We are a group of 8 artists / writers/ Curators, film-makers, spanning 71-83 years of age. We plan to embark on a mission to explore our source of creativity in old age. We initially came up with the idea during a meeting to reassess our career path as we found that we were in need of some psychological support from others of a similar age, when our bodies were slowing down but our hearts and minds were continuing to run as fast as usual. 
To that purpose we will be working with the neurological team at the St. James's Hospital Centre for Gerontology, and with local community groups in Mayo, Co. Tipperary, Kilkenny and Wexford. The participants (listed below) are drawn from Wexford to Kerry, Dublin to Belfast and are Irish or have lived in Ireland for many years. It is therefore a truly island-wide project, but one that is informed by artistic experience from continental Europe and America.
We intend to present exhibitions/workshops/symposia in venues in Tipperary, Kilkenny, Wexford and Carlow and have been invited, by Prof. Colin Doherty, Neurologist, to present a workshop at St. James's Hospital, Dublin. Tipperary Arts Office has already given informal support to exhibitions/ expressions of the project at Damer House, Roscrea, Source in Thurles and the South Tipperary Arts Centre in Clonmel.
About Us
We have called ourselves Na Cailleacha, the Irish word meaning witches or divine hags. We want to explore what it means to be women who are getting older and arguably becoming invisible and what strategies we devise to overcome those negatives.
Between us we share well over 500 years of experience of being women, mainly as artists, one as a curator/writer/historian. We want to make art that allows us to explore that collective experience and our attitudes to ageing, our bodies, our place in the art-world, and how we relate to a different culture and heritage. Central to this developmental opportunity in this phase of our careers is working collaboratively, enabling us to do what women have always done, - mentored and supported and argued with each other - so that we can share the fruits of this time together with other people in Ireland during 2021.
We plan to live, work and explore ideas and issues that are relevant to us now and also whatever is prompted by working together for one month ( 1 September 2020 - 1 October 2020, at the Ballinglen Arts Centre, Co. Mayo, and to make artworks in the form of paintings, performance, a video, possibly an artist's book or installation and a journal and on/line blog. The work will continue after the residency period when all participants will be filmed in their studios and asked to comment on the experience.
Our initial outcome will be to present an exhibition of the work we have completed in Ballinglen at the end of our month-long stay there.  
In addition we intend to present exhibitions/workshops/symposia in venues in Kilkenny, Callan, Visual and Wexford and at the Centre for Gerontology at St. James's Hospital, Dublin in 2021 and to have our project evaluated by a member of the neurology team, James Hospital. 
Costs
We have estimated the overall cost of the project to be €25k (to include rental of accommodation and studios at Ballinglen and the cost of filming and editing the video documentary. If your company (add name) wanted to sponsor our project for €10K we would make them our lead partner in this, but we would be delighted to accept smaller contributions towards it, all of which would be acknowledged in the documentary film and in all other publicity associated with our exhibition/ workshop programme'.
Visit Na Cailleacha website HERE