We have called ourselves Na Cailleacha, the Irish word meaning witches or divine hags. We want to explore what it means to be women who are getting older and arguably becoming invisible and what strategies we devise to overcome those negatives.
Between us we share well over 500 years of experience of being women, mainly as artists, one as a curator/writer/historian. We want to make art that allows us to explore that collective experience and our attitudes to ageing, our bodies, our place in the artworld, and how we relate to a different culture and heritage. Central to this developmental opportunity in this phase of our careers is working collaboratively, enabling us to do what women have always done, - mentored and supported and argued with each other - so that we can share the fruits of this time together with other people in Ireland during 2021.
Mission statement; We intend to work together as a group of older or aging women to research, make and think about art that reflects our life experience and our experience as creative practitioners, our ongoing issues of visibility and strategies to compensate for those. We intend to align the strengths we have gained as older women artists with the history, mythology and landscape of the locations where we work and to make a body of work that is empowering, imaginative and fun for us to make, and to share with communities around Ireland.
Members of 'Na Cailleacha' were among the founder members and activists involved in the 'Women Artists Action Group', which campaigned for equal opportunities for women artists in the 1980s, paving the way for a younger generation of artists such as Kathy Prendergast and Alice Maher. That experience and our ongoing involvement with gender-based activism will inform this project.
The members of Na Cailleacha  are;
Patricia Hurl, a painter and performance artist, based in County Tipperary
Therry Rudin an artist from Switzerland Drawing and interested in particular documentary film-maker, based in County Tipperary
Helen Comerford, a painter and educator,  based in Co. Kilkenny
Maria Levinge a painter, based in Co. Wexford
Gerda Teljeur whose work explores the linear potential and energy  of ink on paper on a scale not usually associated with this medium, based in Co. Wexford
Barbara Freeman, a painter, based in Belfast
Catherine Marshall, a curator and art-writer, interested in forging and documenting collaborations and relationships across arts practices and disciplines, based between Dublin and Co. Kilkenny. 
I am working at the moment and time on a documentary with working Title 'Na Cailleacha' in process to be screened by Age and Opportunity for Bealtaine next May and the group is close to finishing enough visual artwork for a series of exhibitions for 2021.
Gerda Teljeur in action in Ballinglen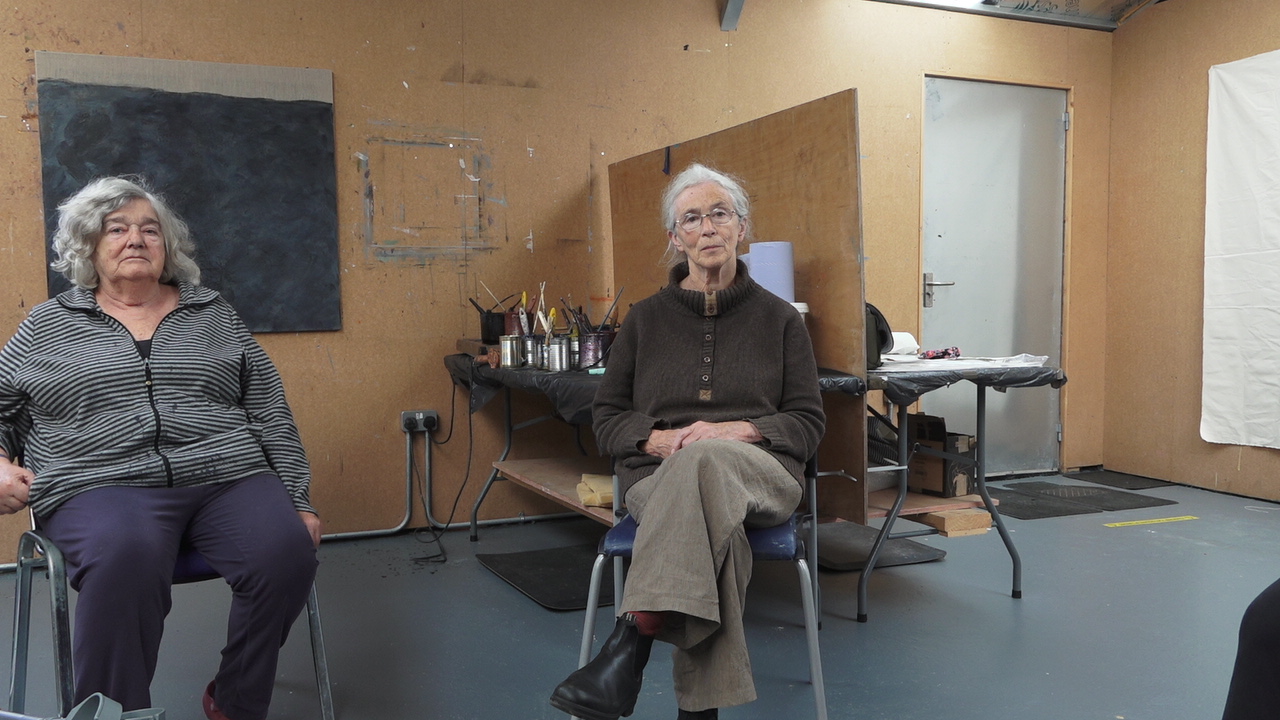 Helen Comerford and Catherine Marshal in Ballinglen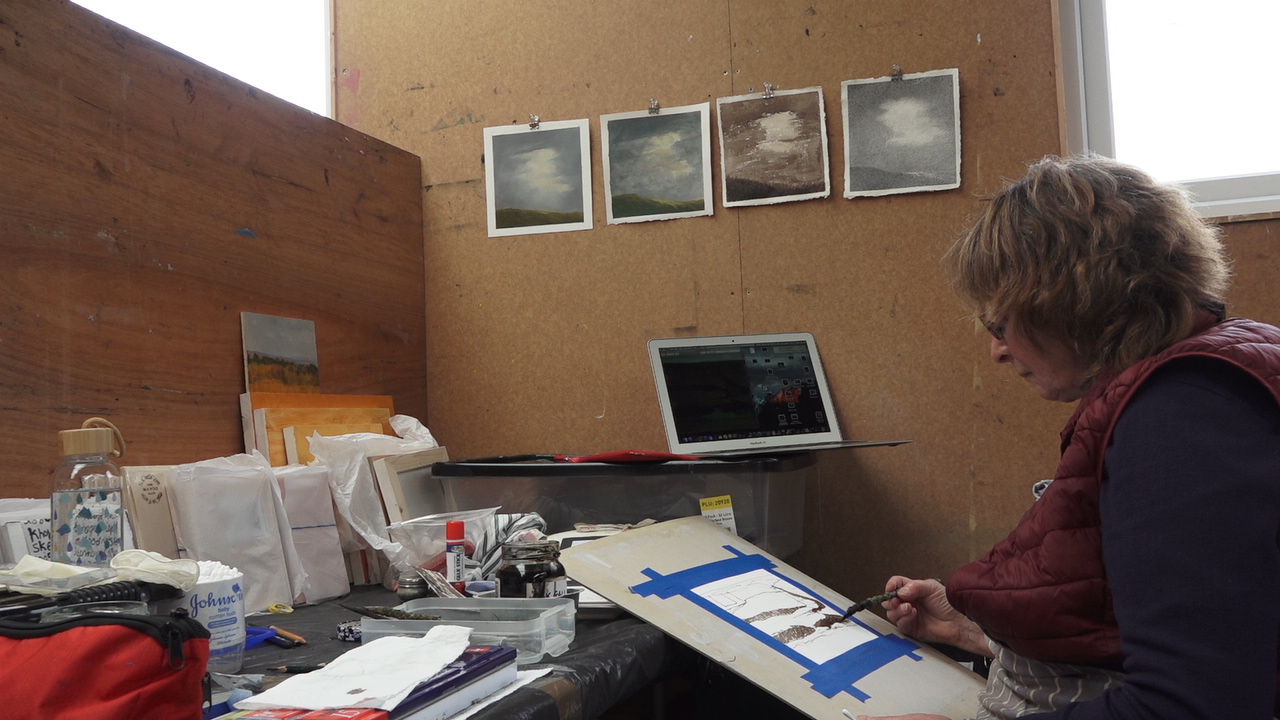 Maria Levinge at Ballinglen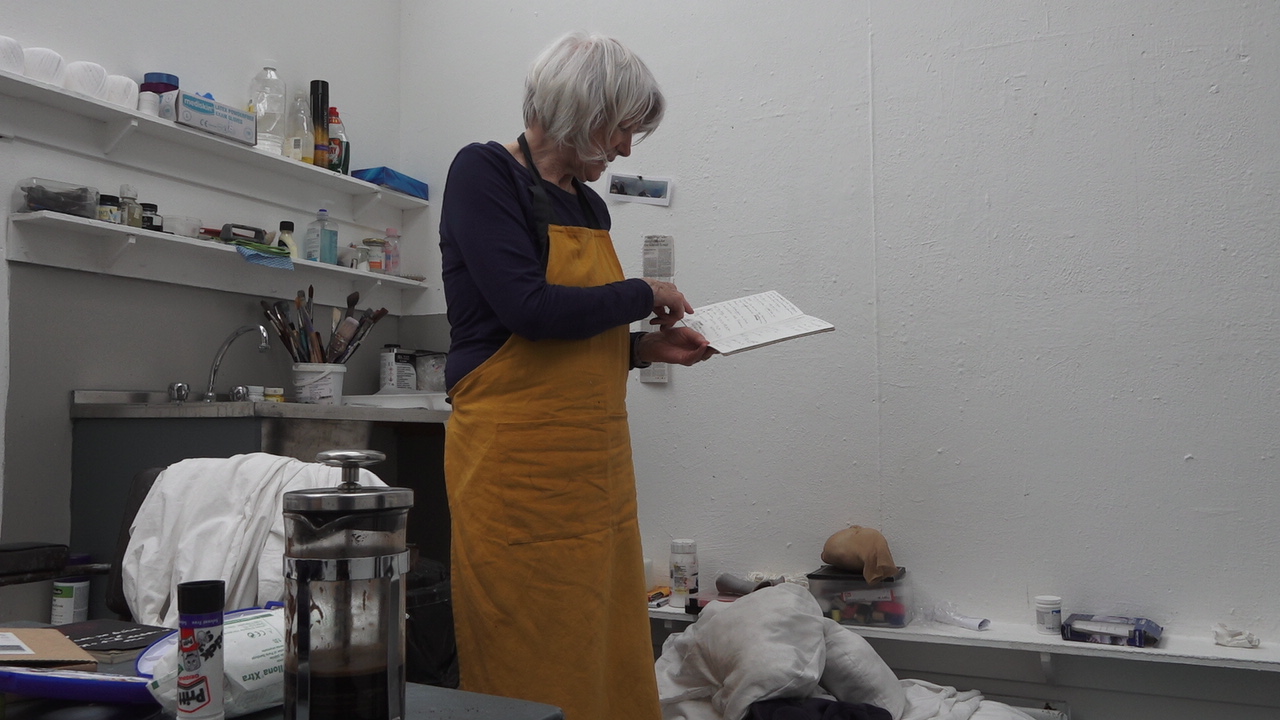 Patricia Hurl in studio at Ballinglen